| | |
| --- | --- |
| Posted on April 8, 2012 at 4:45 PM | |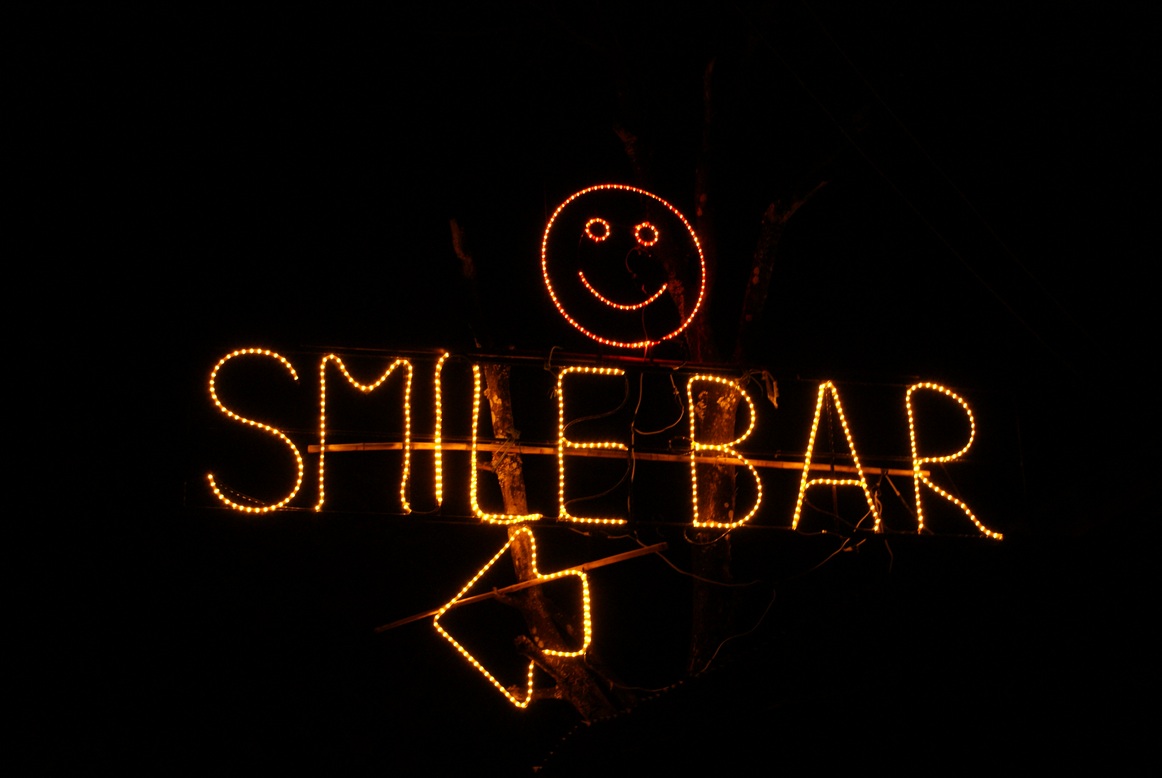 Being over 30, and struck by a growing intolerance of late nights, loud music and people who use the word 'party' as a verb, I was pretty sure I'd hate Vang Vieng.
Young backpackers head to this tiny town in central Laos for day-time high-jinks on the Nam Song river and after-dark fun in spit-and-sawdust bars selling ludicrously cheap buckets of whisky and Coke.
But I'd also heard there was more to it than boozy hedonism, so much so that several laid-back (idle) thirty, forty and fifty-somethings were on a permanent vacation there.
I was in Luang Prabang, a charming city sprinkled with faded French colonial buildings and shiny Buddhist temples. Vang Vieng was a six-hour bus ride away - a relatively short over-land journey by south-east Asian standards. Perhaps inevitably, I gave in to temptation.
My guidebook had described Vang Vieng as a 'sullied paradise'. It was a canny observation. The town is bi-sected by the gently flowing Nam Song, and on one side of the emerald stream, a row of lofty vegetation-cloaked limestone lumps rose magnificently into the clouds. I half-imagined Arthur Conan Doyle's 'Lost World' laying beyond them. Below, hugging the banks and stretching back to a handful of dusty paths were a spread of bamboo bungalows. Symptomatic of the vibe of rustic relaxation that swept through this area, everybody was sunbathing on the grass.
By contrast, the other side of the river (and a little island in between the two banks) was choked with guest-houses, tour agencies, massage parlours, neon-lit bars, pubs, cafes and restaurants – half of which seemed to be playing episodes of Friends and The Simpsons on a loop.
Tuk-tuks zipped through the streets, vendors cooed the phrases 'pancake' and 'sandwich'  to anyone who passed and touts offered kayaking, caving and rock climbing trips. The general topic of conversation among travellers appeared to concern a phenomenon called 'tubing', which, a young Canadian told me, was basically a pub crawl on water. It involved renting a giant inflatable round tube and floating down the river, from ramshackle bar to ramshackle bar, pushing your luck on zip lines and slides, while gradually getting more and more intoxicated. There was no talk that it might be dangerous.

"It's awesome, man," said the Canadian, with boyish enthusiasm. "I've been five days in a row. Are you coming?"
I made my excuses and rode out of town on a mountain bike I'd hired for 2,000 Kip (a quid and a bit, or a few dollars).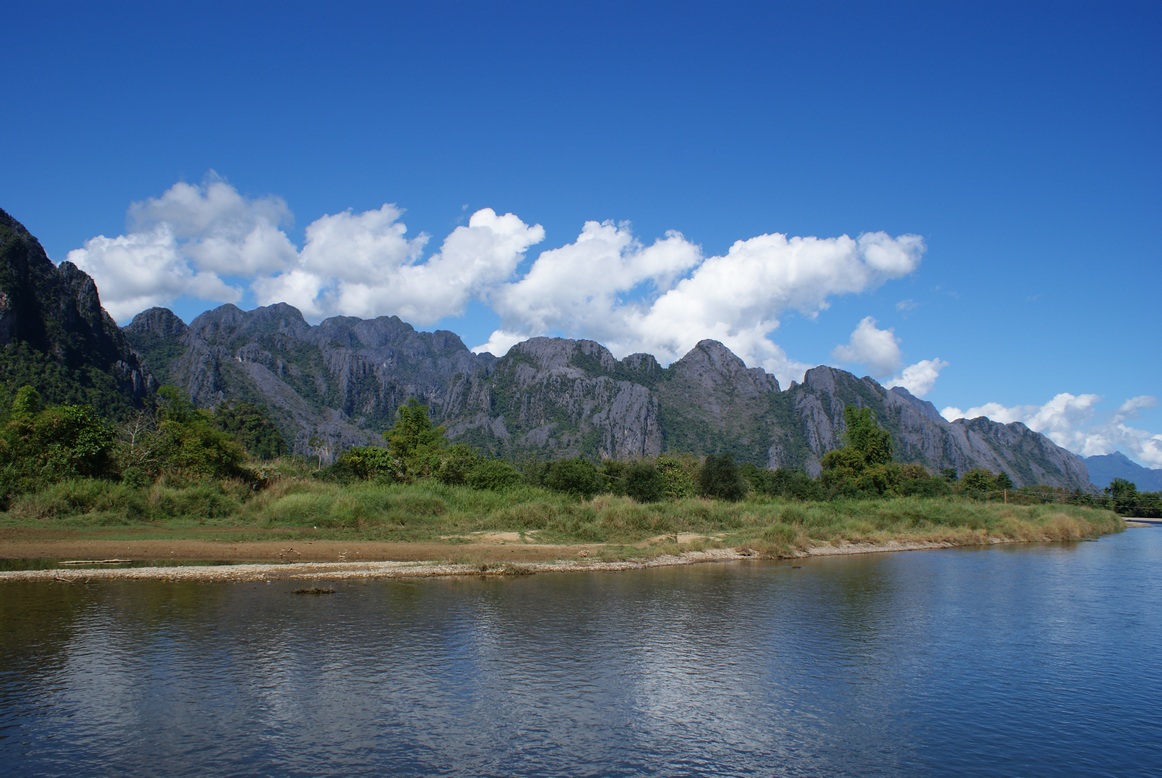 The scenery soon became less cluttered. Vang Vieng was, until a little over a decade ago, an anonymous village in the middle of pristine countryside and its surrounds are still largely unravaged by tourism.

As I cycled on the main (uneven) road heading north, I saw Lao eating in cafes that, strikingly, appeared to have no English signs or menus. Teenage boys huddled round a snooker table that rested under a makeshift shed. Women cycled along, holding the handle-bars with one hand and an umbrella – to shield the tropical sun – with the other. Little children, with tiny backpacks strapped to them, strolled, by themselves, along the side of the road.
The further I pedalled, the more nature began to dominate. A patch-work of fields, the winding Nam Song and those eye-catching, cloud-coated limestone shards created several gorgeous vistas. The occasional motor-bike and bus roared past, but most of the time I was completely alone, pondering my fortune at hogging this beauty to myself. I'd spent most of my childhood in that 'green and pleasant land', England, but this was as lush and verdant as anything I'd seen.
Every so often, the bucolic environment was broken up by a little village, comprising bamboo huts, simple brick cottages and, usually, a little school. I chanced across an old woman who was showering, topless, in her front garden. I averted my eyes. Really, it was for the best.

I found the locals were even keener to mingle here than in Vang Vieng. "Sabaa-dii!" (the Lao word for 'hello') was a frequent greeting, always accompanied by an endearing, genuine smile. Most memorable were the four children who, upon seeing me on the side of the road taking a photograph, raced over, arms stretched out, seeking a hand-shake.
Despite attracting a few obnoxious fools (where doesn't?), Vang Vieng is, by and large, a friendly and unassuming place. Cosmopolitan too. As well as the Lao, I met some decent people from Chile, Israel, France, Holland, Germany, Canada, USA, the UK, New Zealand, Sweden and Australia (Melburnians heavily outnumbered the Sydneysiders). Most badgered me to at least give 'tubing' a try and, eventually, I gave in. Despite my doubts, I had fun – helped by embracing the alcoholic revelry, admittedly, although the enjoyment waned after the sun had set beneath those limestone lumps, bringing a chilly sting to the air.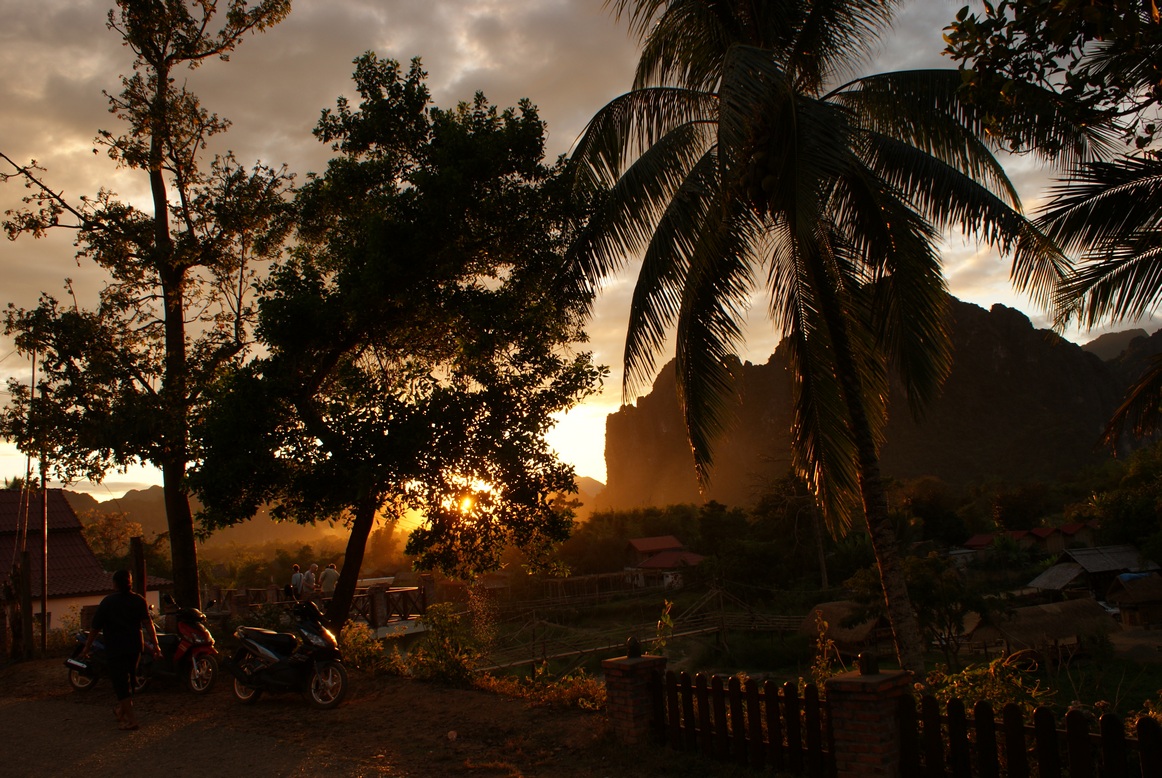 Afterwards, back in town, semi-clothed, I 'partied' with fellow 'tubers' and listened to cheesy 80s and 90s tunes in the open-air bars – at least until midnight, when the music was surprisingly switched off. The Laos government are strict on noise pollution, apparently. They're also against drug use and foreigners fraternising with Lao nationals in a sexual manner. A poster in my bedroom in Luang Prabang had urged me to 'Respect the Law! Respect the Lao! and warned: 'do not any drugs, crambling or bring both women and men which is not your own husband and wife into the room for making love'.

On my last day in Vang Vieng, having had my fill of cycling, sight-seeing and 'tubing', I lazed in a cafe, sipping treacle-thick local coffee and watching at least ten episodes of Friends.
Was I glad that I'd come? Yes. Would I come again? No - probably not.
PS...I wrote this after my visit in 2009. I'm sure it's changed a little, but not too much

Categories: None