| | |
| --- | --- |
| Posted on April 27, 2012 at 8:00 PM | |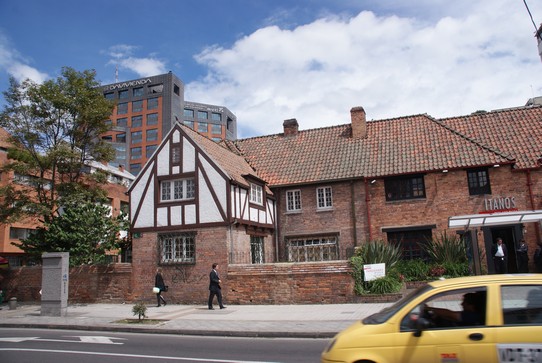 It almost pains me to say this as an Everton fan. But I really quite like Luis Suarez. As a player, anyway.
I was hoping Norwich would thrash Liverpool this weekend, because a win for the Canaries would've kept Everton five points ahead of their Merseyside rivals in the English Premier League. After beating us in the FA Cup semi-final – helped, of course, by a goal from Suarez – finishing above the Reds in the table would be a small, but tidy, consolation for the Toffees.
However, Suarez produced a brilliant hat-trick to inspire Liverpool to a 3-0 win. Watching the match from an English pub in Bogota, the seriously under-rated, and rather British-influenced, capital of Colombia (pictured above), I reckoned that only a ludicrously biased Evertonian (and today, a Canary) would fail to appreciate the talents of this waspish Uruguayan.
Then, as I chomped on my fried eggs, sausages and crispy bacon, and sipped a cup of tea (with milk), it struck me - a lot of people, who aren't Everton fans, actually hate Luis Suarez. And it doesn't matter how well he performs on the field, this isn't going to change.
"Good goals – but he's a c%$£," said one scribe on YouTube after the game.

Many of the Suarez haters are Manchester United supporters. They haven't forgiven Suarez for his much-publicised spat with Patrice Evra earlier this season. Their antipathy towards Liverpool's number seven grew when he appeared to refuse to shake Evra's hand during the two teams' next meeting a few months later.
But a lot of other people – who don't support Everton or Man U – dislike Suarez with a passion. For some, it's because he has a tendency to dive (cheat). But many loathe him because, basically, they think he's a racist bastard.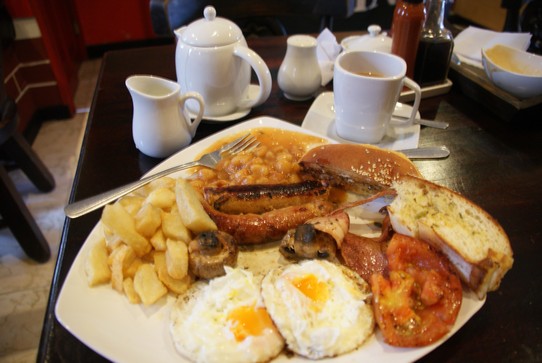 Unsurprisingly, despite having visited Uruguay, I don't know the bloke, so I won't even attempt to say if he is or not. His team-mates at Liverpool and in the Uruguayan national team certainly don't think so – not least because Suarez's own background is one of mixed race. Then again, how do they know for sure?

During the inquiries into the Suarez-Evra incident, it emerged that Suarez had called the United left-back 'negro' and 'negrito'.
At the very least, it was a stupid thing to say – especially in England, where referring to someone's skin colour, in even a potentially derogatory way, puts you on a slippery slope to trouble.
Suarez also said the words repeatedly. It was as if he was trying to wind up, or insult, Evra, based on the colour of his skin. It doesn't look – or sound - good.
But – and this is a big but. Luis Suarez is from South America. Citing the 'cultural differences' defence, Suarez's backers have been roundly slated. Maybe quite rightly. Yet the truth is - and you won't appreciate this until you've been here - this is a continent where people casually call one another things that would have people in Europe punching each other's faces in, or at least reporting them to the authorities.
In the last month alone, travelling through Colombia, Venezuela and Colombia again, I've heard people referred to as 'gordo' and 'gordito' (fatty and little fatty), 'flaca' (skinny), 'blanco' (whitey) and, yes, 'negro' (black/negro) and 'negrito' (little black/negro).
Not once have I seen anyone react badly - even if they're called these names over and again. It's normal - just a quirk of conversation. It's a bit like in Britain or Australia, where people call each other 'mate' - even if they're not actually friends. In South America, calling someone 'gordito' or 'negrito' isn't, necessarily, an insult. They yell 'gordo' if someone's fat, 'blanco' if they're pale and 'negro' if they're black. Suarez spent the first 19 years of his life ingrained in this culture. I know myself that, just because you leave your country of birth, you don't suddenly lose touch with its customs and traditions. Some things come naturally. Like my urge for English breakfasts, whereever I am in the world. Or my tendency to use the word 'mate'.

That said, I'm not sticking up for Suarez. After several years in Europe – including five seasons in the Dutch league - he should have known better. He should've been aware – or made aware – that, over here, you can't say what he said to Evra. He should have dealt with the aftermath of the incident better. He should have apologised, shook Evra's hand and drawn a line under things. The fact that he didn't suggests he's a bit of a tool. Or maybe he's just immature – he's still only 25. Or maybe he's just misunderstood. Or maybe he just wasn't very sorry for what he said. Only he knows why he behaved as he did.
Outside Anfield (the hallowed home of Liverpool FC), Suarez isn't very popular. Although he's paid handsomely and plays for one of the most famous clubs in the world, the boos and abuse from the opposition fans, and the stick he gets in the media, are bound to grate a little, and it wouldn't surprise me if Suarez waves goodbye to Liverpool, and England, at the end of the season.

On one hand, as an Evertonian, the Reds losing, arguably, their most gifted player would be lovely, especially as it'd put even more pressure on the still-excellent, but ageing, Steven Gerrard. But, on the other, it would be a shame, because, on his day, Suarez is clearly one of the best footballers in the league - a joy to watch. The hat-trick he scored against Norwich is one of the classiest I've seen in years. Almost as good as Denis Bergkamp's famous one against Leicester City in 1997.

My gut tells me that it won't matter what he does now, the Suarez brand is tainted – probably for good. I could be wrong, though. He may yet re-invent himself and become one of the most popular sportsmen in England. What do you think?
Categories: None