| | |
| --- | --- |
| Posted on October 15, 2013 at 3:10 PM | |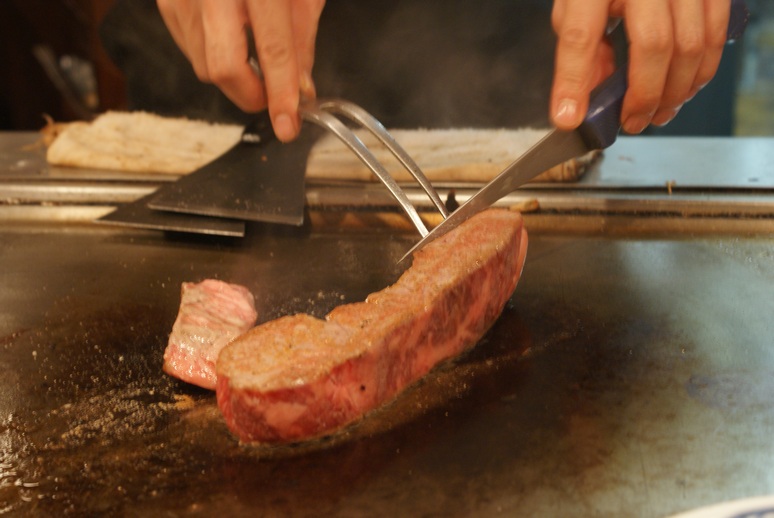 In one of my last blogs, several months ago (sorry, I've been busy), I wrote about how travel wasn't all about seeing spectacular sights. It was about people and how some of the characters you meet will long stay in the memory. But travel, to me - and probably most of you - also means food.

The other day, as I sheltered from the cold and tucked into steak and chips at a pub in the English countryside, I thought back to my trip to Kobe, Japan. It was a warm, spring evening. I was wandering through the city's vibrant, neon-slathered Sannomiya district. And I was about to have one of the best meals of my life....

Iron spatula in hand, the young chef slapped a chunk of butter and a few slices of garlic on the long, open, curving teppan (iron griddle) that separates the punters and chefs of Steakland Kobe, a cosy, wood-panelled restaurant close to the Sannomiya train station.

Then came the beef. Compared to some incredible hunks of meat I'd devoured in Australia, New Zealand, Scotland and, especially, Argentina, the portion looked quite measly (it would more or less fit in the palm of an average man's hand).
It wasn't cheap either. In beef-loving Buenos Aires, for example, you can feast on sublime 500 gram sirloins from around 50 Pesos (US$8.60 or £5.40).
At Steakland Kobe, a 200 gram serving of Kobe-reared sirloin was setting me back 5480 yen (which, at the time, converted to $68/£42). In a city strewn with steak joints, however, this was one of the more reasonably-priced ones. And in any case, concerns about the cost went out the window as the steak began to sizzle and a sumptuous beefy aroma, melded with the smell of butter-smeared garlic, wafted up my nose.

Hailed for its rich flavour and tenderness, Kobe beef comes from Tajima cattle, whose well-bred genes naturally yield fatty, well-marbled meat. Farmers feed them a varied diet of barley, corn, alfalfa and wheat, and some swear by additional extras. It's claimed that in the build-up to their inevitable demise, the pampered cows in this region spend their days guzzling beer and receiving massages.
Although scientists are wary of giving these centuries-old methods credence, plying the cows with alcohol, for instance, is meant to induce hunger, while massages are supposed to work under-used muscles and to aid digestion.
As my head filled with surreal images of drunken cows being fondled, the chef moved like a flamboyant artist painting a canvas.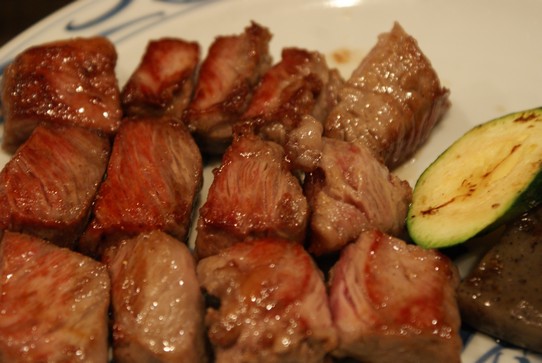 After shearing off the excess fat, he carved the beef into little Turkish-delight sized cubes, which were now medium brown on the outside and a delicious looking pink on the inside (ordering Kobe beef well-done is akin to asking for a de-caff espresso in Rome).
The chef presented the beef with an array of side dishes: thin garlic-tinged fries, mushrooms, Konnyaku jelly and cucumber, a green salad in a Miso vinaigrette dressing, a bowl of beef broth, Konomono (Japanese pickles), boiled rice and a garlic dipping sauce.
The first cube didn't seem to taste of much, or maybe I'd just got over-excited and chewed it too quickly. I didn't make the same mistake with the second one; slowly, but surely, it almost melted in my mouth. By the time I'd savoured the third cube - succulent beyond belief - I felt like I was in steak heaven.
When I was growing up - and even when I pop back home these days - my mum would chastise me for scoffing my food too quickly ("It took me all day to cook that, and you've eaten it in five minutes!"

I adapted my dining techniques in Kobe, and it was a bitter-sweet moment when, an hour later, I finally swallowed my last cube.
Until I went to Japan, Argentina was my dream steak destination.
Now I'm not so sure - though I know which one is more in my price range.
Categories: None